A Lesson from Wildflowers
Posted by Kristy Highness on
Evangeline saw a custom order I had posted on
Instagram
, which I was calling the Booklet Necklace.
The design prompted something inside her, and she pictured a way to tell the story of her sweet children.
She wrote me on
etsy
her story and her vision.
Thank you for getting back to me. I saw this booklet pendant and thought it would be the perfect reminder for me regarding my children.
After many years of having difficulty trying to conceive we finally had a beautiful baby boy and 18 months later a beautiful baby girl. at 3 years old he was diagnosed with pervasive developmental disorder or Autism. I was devastated and mourned the loss of what my ideal child would be like and his life. But as he grows I've come to realize that just because he doesn't fit into an "A typical" box doesn't mean life will be horrible. On the contrary, he has taught our entire family how to slow down and enjoy our surroundings. To never take anything for granted no matter how small or large it can be. He and my daughter have showed us empathy and sympathy. Understanding and tolerance.
They bring so much joy to our lives. So, as a daily reminder I would like to carry this beautiful necklace around my neck. I would love for it to say "
Normality is a paved road: It's comfortable to walk, but no flowers grow on it
." As a reminder that being "normal" is just a word.
I would also like to know if I can change the pierced photo in the front from two birds to perhaps two flowers representing my children and their birthdays.
And so, a Wildflower necklace took shape
We discussed a wildflower shape to represent her two kids.
I sawed out two equal rectangles, and started spacial planning.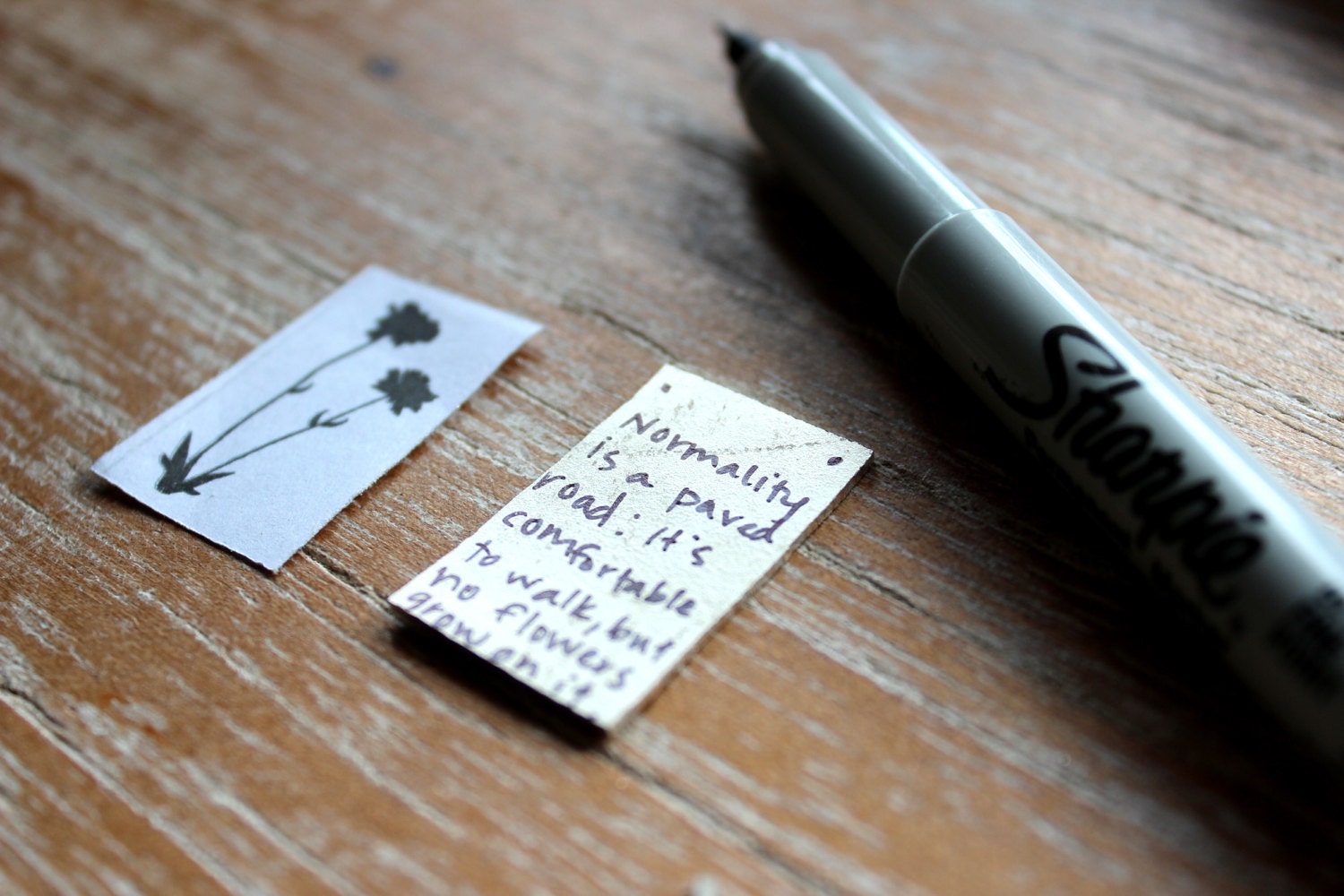 I hand sawed the wildflowers through the top layer of silver, and stamped the text for the inside layer. Letter by letter, line by line.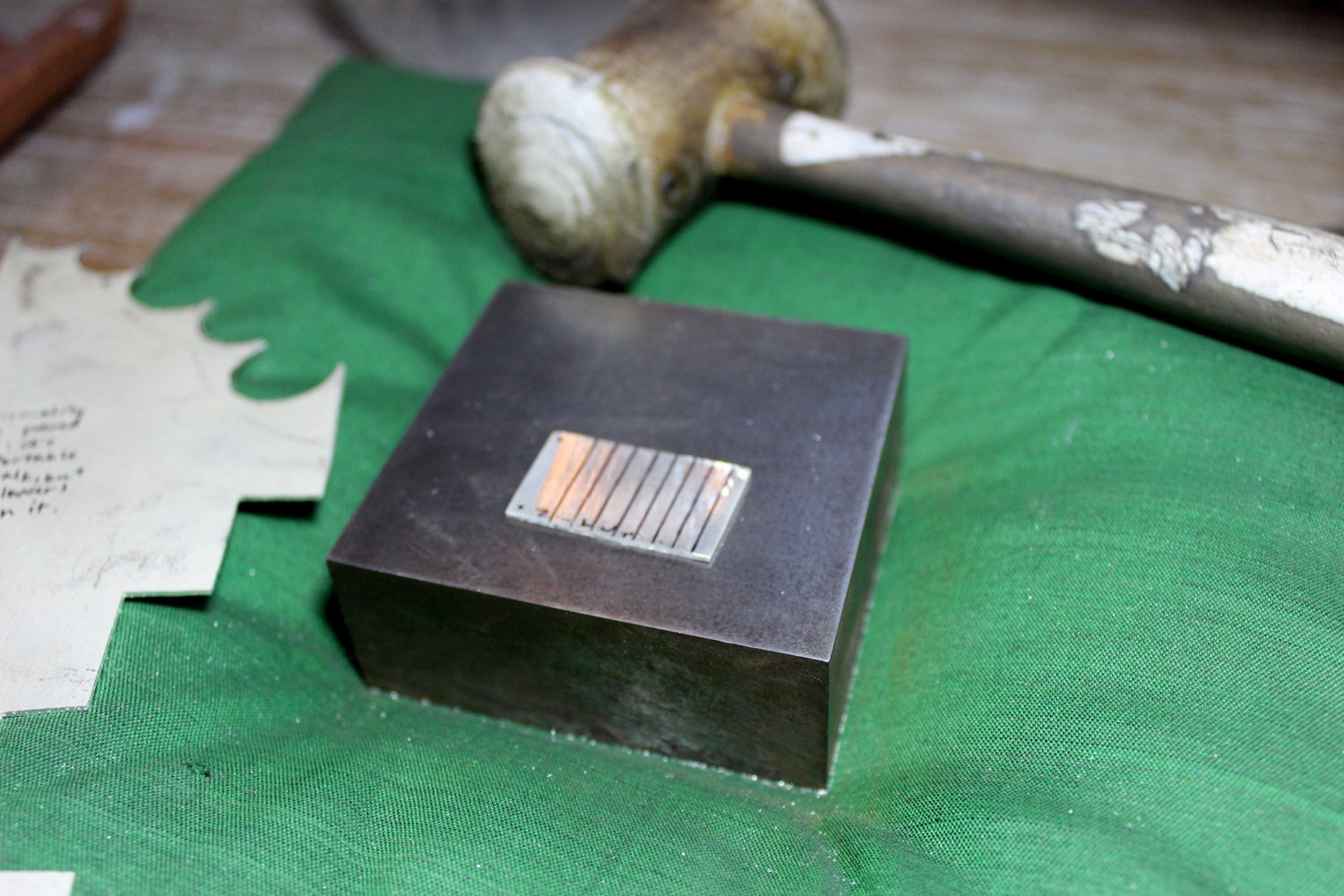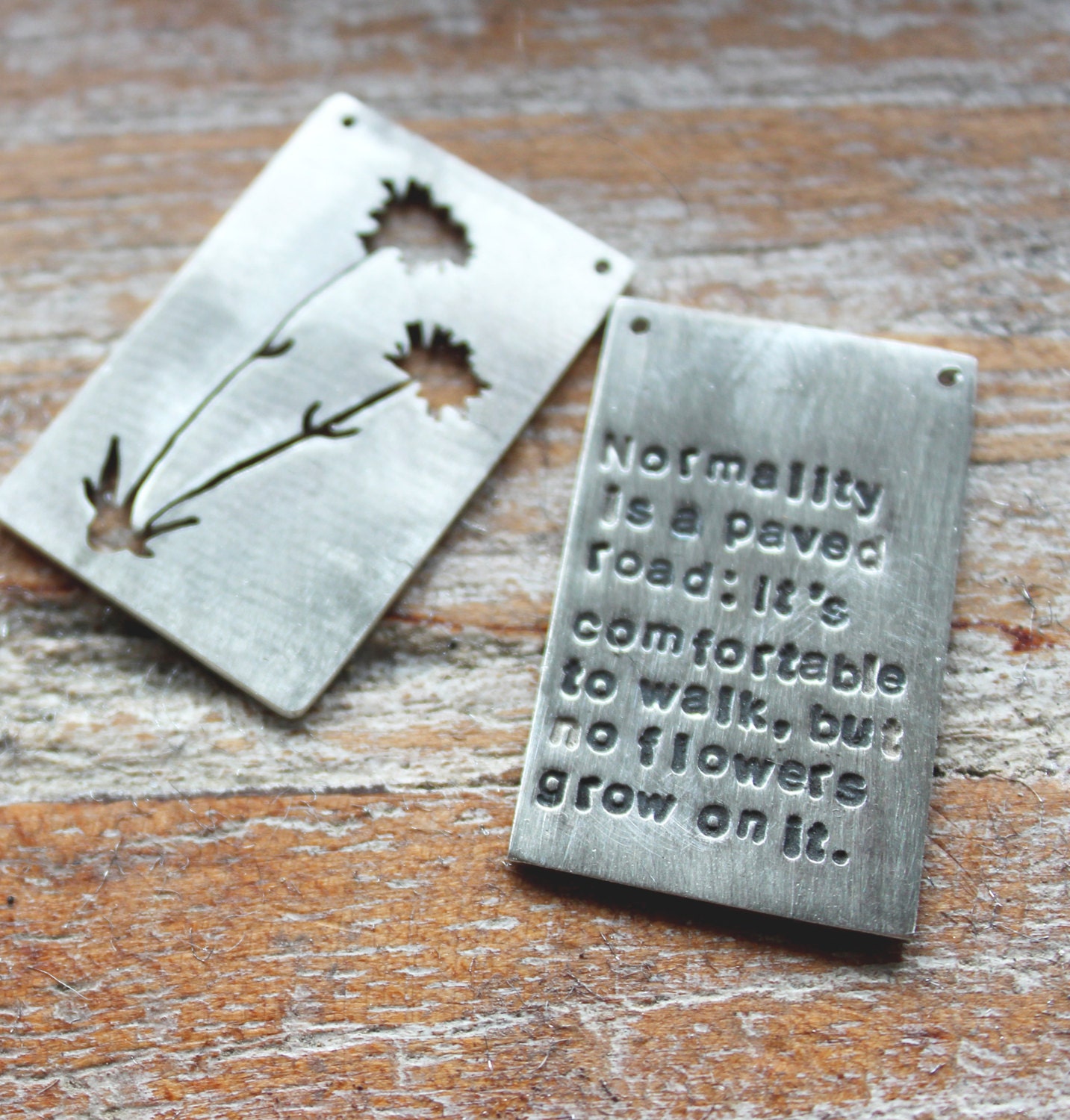 I drilled holes at the top for them to rest on top of each other, and hung a 26" chain for it to hang at a long length.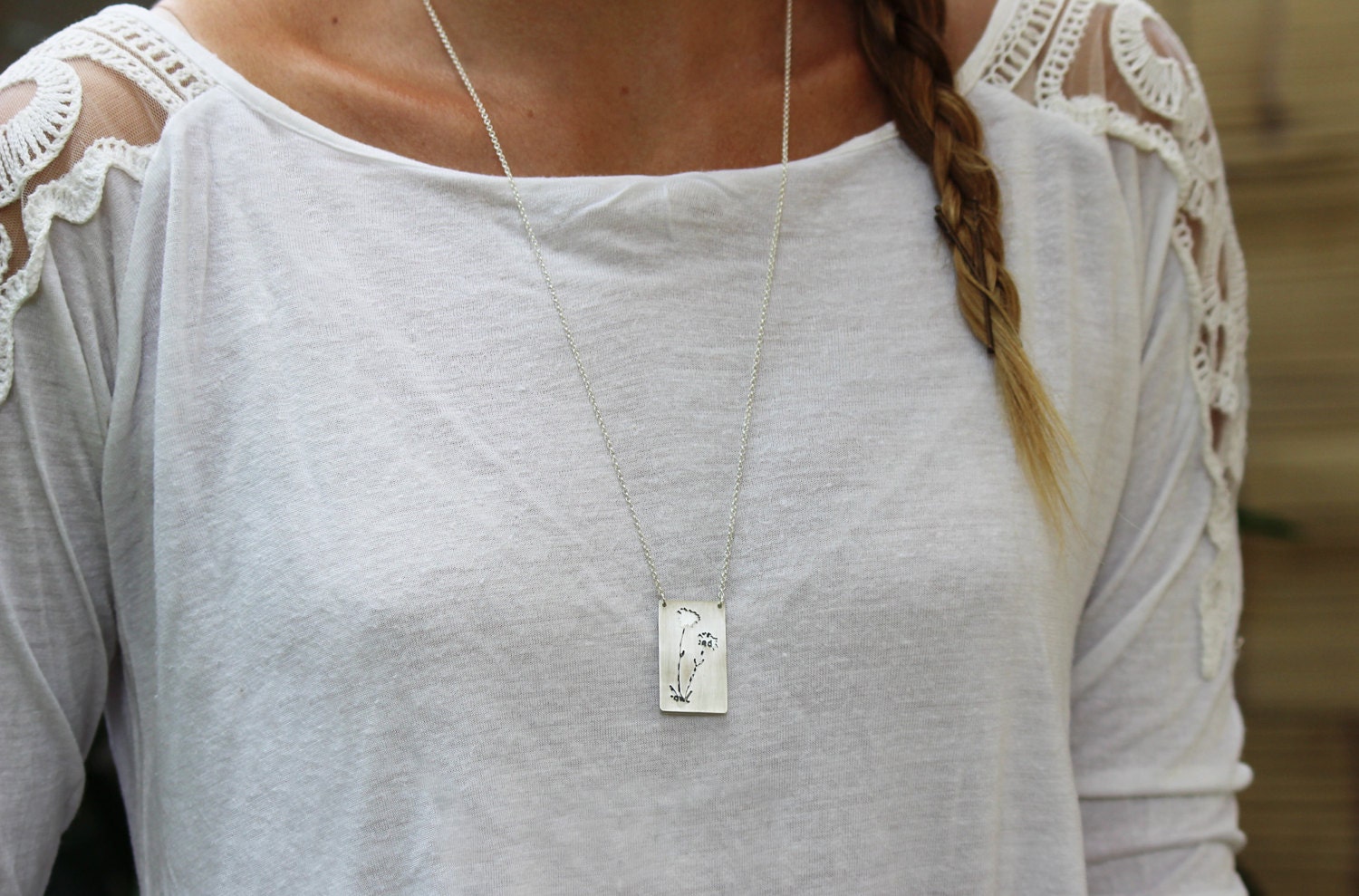 After sanding the edges, blackening, and hand buffing with a fine steel wool, the necklace was complete.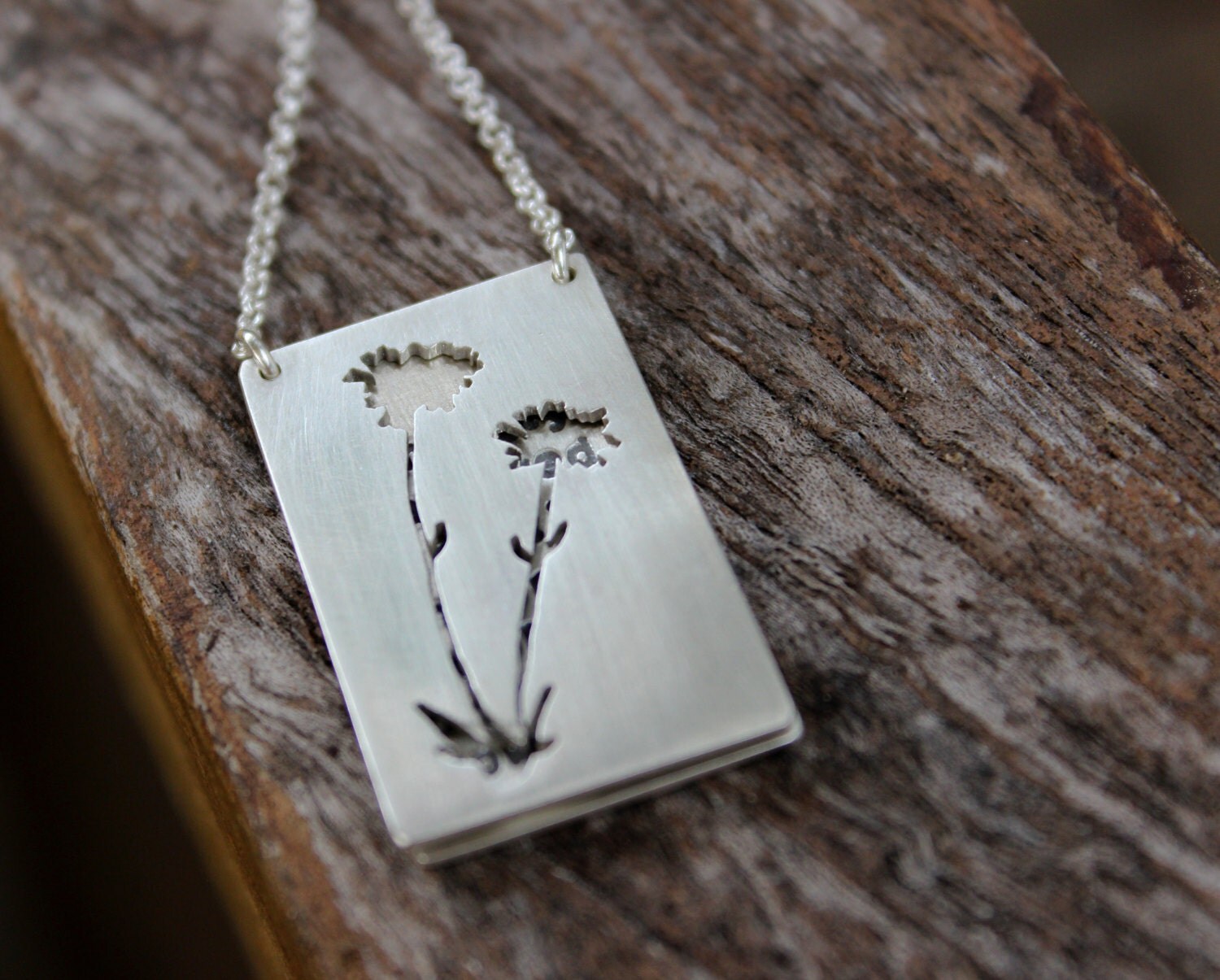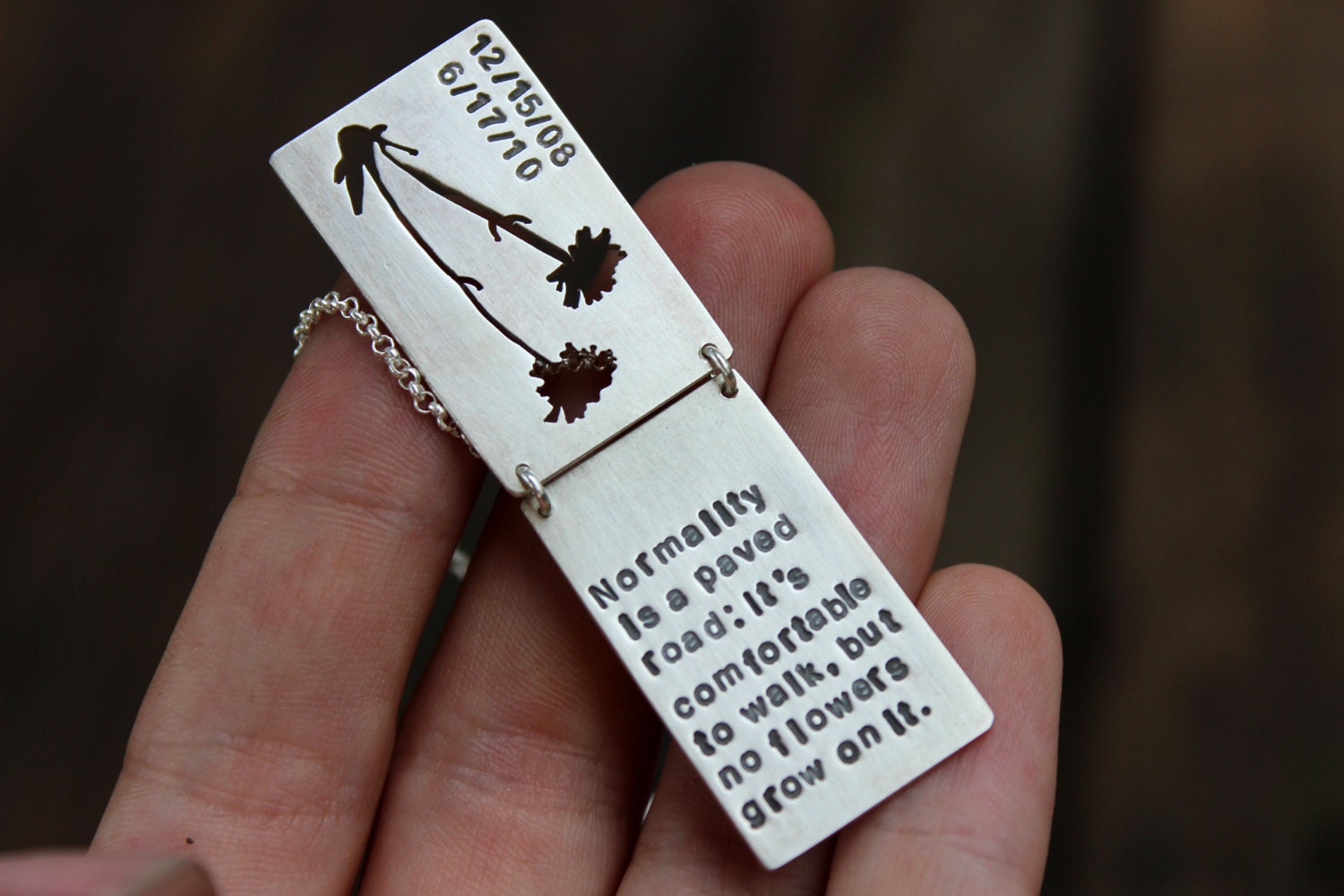 And so her lesson is represented in this necklace. Truth and joy where the wildflowers grow.
Thank you for sharing your story with us, Evangeline. And for appreciating your colorful life and the wildflowers growing and adding beauty in unsuspecting places.
---
Share this post
---
---
---
0 comment